Request A Free Demo

What We Do

Products & Services

Window Stickers & BG's

Data Feeds & Partners

Inventory Templates

Website Templates

Mobile Websites

Internet Lead Management

Prospect Follow-Up

Vehicle Matching

Customer Follow-Up

Craigslist

Live Chat

Video

Web Mail

eBay

Reseller Opportunities

Contact Us
CRAIGSLIST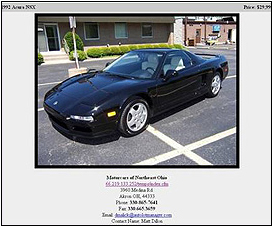 Are you taking advantage of advertising your cars on Craigslist? Dealers are selling more cars NOW using FREE websites like Craigslist! Don't get left behind!

AutoLotManager can get your inventory posted QUICKLY, EASILY, AND AFFORDABLY! We now offer solutions ranging from a simple tool for self-posting to a comprehensive program which includes vehicle addition and deletion, tracking, anti-flagging and ghosting technology, and weekly re-posting.

To Request a Free Demo, click here!